Helping Families and Advisors with the Complexities of Wealth
Dr. Jim Grubman of FamilyWealth Consulting is an internationally recognized consultant, speaker, and educator in the multidisciplinary field of wealth counseling. He works with affluent families and their advisors to understand the many ways that wealth and life can be integrated successfully.
Using skills developed as a psychologist for over 30 years, he helps individuals and families work through the natural dilemmas of acquired or inherited wealth. He also teaches, trains, and collaborates with the important advisors in clients` lives. The goal - to help those with good fortune achieve their greatest potential.
Strangers in Paradise: How Families Adapt to Wealth Across Generations
Jim Grubman's long-awaited publication Strangers in Paradise: How Families Adapt To Wealth Across Generations is now available at Amazon.com. Based upon the groundbreaking insights first outlined with colleague Dr. Dennis Jaffe, the book explores in depth the similarities between newcomers to wealth and the journeys of ethnic immigrants to new lands. It also outlines the important steps families must take in raising well-balanced, responsible, and strong inheritors ("natives of the Land of Wealth"). Through concepts and human stories, the book explains how the key process for families of wealth – like all immigrant families – is adaptation. 
Current Activities
Jim Grubman and Dennis Jaffe Interviewed by Tharawat Magazine
Jim Grubman and Dennis Jaffe are interviewed by Tharawat magazine, an international business publication dedicated to the best practices of family-owned businesses and entrepreneurship. The two family business experts explain their passion for family businesses and how they help family members communicate and foster growth.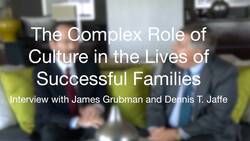 Jim Grubman featured on NPR's On The Money Radio You're Financially Secure, Now What?
On February 17, 2015 Jim was interviewed by United Capital financial advisor Steve Pomeranz on his weekly financial NPR radio show, "On the Money!" 
From Mr. Pomeranz's site: "The American Dream is alive and well. America is still a thriving land of opportunity for immigrants and those who already live here – where people work hard and get into the top 1% of wealth brackets that are significantly higher than what they started out with. Jim Grubman addresses how these wealth transitions influence people, the dilemmas they face when raising their own kids in wealthier environments, and the personalities of those who dedicate themselves to wealth creation."

Jim Grubman presentation at CFA Society of Los Angeles, January 2015
In early 2015, Jim presented to members of the CFA Society of Los Angeles about  Building Capital Where it Counts the Most: Skills for Enhancing the Client Relationship. The focus of this event was discussing the abilities needed to interview clients well in order to discover their real needs, goals, and personal issues. During his presentation, Dr. Grubman expanded upon key skills and techniques when advising clients such as active listening and minimizing the use of financial jargon.
Jim Grubman and Dennis Jaffe presentation at the 2014 Family Firm Institute Global Conference
2014's FFI conference Complexities, Constituencies, and Constellations addressed the problems of complexity, the power of constituencies, and the constellation of socio-cultural forces exerting themselves across the field of family enterprise. As thought leaders in family enterprise consultation and research, Jim Grubman and Dennis Jaffe delivered an interactive presentation on The Complex Role of Culture in the Lives of Successful Families: Helping Generations Adapt to Family Wealth. The focus of the presentation was understanding the economic, ethnic and generational factors a family enterprise must navigate across time, ultimately fostering a balance of "Me" vs. "We" in families. 
Jim Grubman Quoted in latest Malcolm Gladwell Book
Malcom Gladwell's best-selling book David and Goliath: Underdogs, Misfits, and the Art of Battling Giants cites the metaphor of "Immigrants and Natives" to wealth first articulated by Jim Grubman and Dennis Jaffe. Gladwell's book quotes Jim about how acquirers of wealth must change their approach to parenting, and how difficult that can be without guidance. The book provides examples of how starting off in adversity helps wealth creation, and how being raised with the comforts of wealth can inhibit success for some inheritors.
The book also discussed other seeming disadvantages like dyslexia which can - for some highly motivated individuals - create conditions that develop skills for success. For a deeper look at the beneifts and challenges of ADHD and learning disorders for entrepreneurs, read the article Whirlwinds and Wealth by Jim Grubman and Jerome Schultz.
Dr. Jim Grubman
Upcoming Events and Media
Jim will present at a Global Partners event in Toronto about the need for advisors to address the role of culture in global families of wealth.
---
Jim will participate on a panel discussion about "The New Intergenerational Challenge: Caring for Aging Parents" in Chicago, IL.
---
The first annual Fusion Collaboration in Orlando FL will combine technical and behavioral aspects of estate planning, philanthropy and wealth management. Jim will provide a keynote address and participate on several panel discussions as well as present on the Financial Skills Trust.
---
Jim led a successful session on family dynamics at the annual TIGER21 conference in Palm Beach FL.
---
Jewish Federation of Greater Atlanta
Jim discussed current concepts about successful families of wealth and raising affluent children responsibly.
---
United Capital Financial Advisers – Executive Summit
Jim made a keynote address clarifying important aspects of fee discussions and pricing models for the client relationship.
---
Abbot Downing Client Event
Jim presented the keynote address at the Abbot Downing annual client forum as well as panel participation with other prominent experts in the field.
---
Purposeful Planning Institute
Pre-Conference Workshop for Advisors
Jim conducted a pre-conference workshop on using the cultural model of wealth with clients at the PPI Rendezvous.
Jim presented in Hong Kong and Singapore for a major financial institution on the concepts from his latest book.